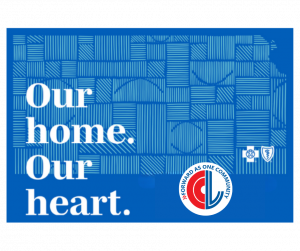 Introducing Chamber Blue of Kansas- a large group association health insurance plan offered through Blue Cross Blue Shield of Kansas.
This is a fantastic opportunity for small businesses to offer their employees health insurance at an affordable rate. With as few as two W-2 employees, your business is eligible through the Chamber. 2023 was the inaugural year of the program, and will only get better!
The Leavenworth-Lansing Area Chamber of Commerce is proud to partner with Chamber Blue and bring this program to our community.
Thank you for your patience. The results are below for 2022-2023:
You must participate in the interest survey (due August 18).
For enrollment, you must be a current Chamber member.
Employ two or more W-2 employees unless your business files taxes as an S-Corp or C-Corp.
Must have 70% of eligible employees enroll in the group health plan and pay 25% of the lowest cost plan offered.
July 1-August 18 2023: Complete your interest survey. BCBSKS will collect your company's information, your participating employees' names, dates of birth, genders, and zip codes. Your business does NOT have need to be a current member of the Leavenworth-Lansing Area Chamber of Commerce to complete the survey and receive rates.
September 2023: Rating. Plan pricing will be the same statewide. There is no obligation to accept the proposed rates. You must be a current member or join the Leavenworth-Lansing Area Chamber of Commerce to accept the proposed rates.
October 2023: Renewal communication to existing groups and new businesses
November 2023: Member enrollment- New groups and Renewals
December 1, 2023: Rates finalized
December 22 2023: Member welcome materials and ID cards will be distributed.
January 1, 2024: Plan becomes active.
Q: If I fill out the survey, am I automatically enrolled in the Chamber Blue program?
A: No. While you must fill out the survey to participate in the first year of Chamber Blue, it does not obligate you to join the program if it does not fit your needs.
---
Q: What about the 70% eligibility? I have employees who use their spouse's insurance.
A: 70% eligibility does not mean that 70% of all employees must join the program. If they are eligible for another program- with a spouse, for example- they do not count as an eligible employee.
---
Q: What if I hire someone after I join the program? Will they be excluded?
A: No. If you are already in the program, they are eligible.
---
Q: What happens if I leave the program? Can I re-enroll later?
A: You can re-enroll, but there is a 2 year mandatory interim.
---
Q: Is there an upper limit?
A: The Chamber Blue Program is for 2-50 employees. Businesses with more than 50 employees are not eligible to participate. If your business is over 50 employees and already enrolled, your business will be grandfathered in.
---
Q: Is there good hospital access?
A: Over 90% of Kansas hospitals are included in the Blue Cross Blue Shield network- that includes hospitals in Johnson & Wyandotte Counties.
---
Q: What does the plan pricing look like?
A: Plan pricing will be introduced in mid-September. It will be based on the survey that is out now, so more participation potentially equals a better rate. Last year's pricing is available for reference. (See 'MC449C Quad Options 2023' under 'A Great new Program' section.)
---
Q: I'm a member of more than one Chamber/there's another Chamber in my area. Which Chamber do I go through?
A: The closest participating Chamber. Or, if you have two locations, the Chamber closest to your business 'HQ'.
---
Q: What qualifies as a "full-time" employee?
A: 30 or more hours per week is a full-time employee.
---
Q: Who fills out the survey?
A: The employer must fill out the survey.
---
Q: I am currently enrolled. Do I need to take the survey again?
A: No. Any business currently enrolled in the Chamber Blue of Kansas program does not need to fill out the survey.
For more information or to complete the interest survey, please contact:
Jen Anders
President/CEO
Leavenworth-Lansing Area Chamber of Commerce
jen@llchamber.com
(913) 682-4112